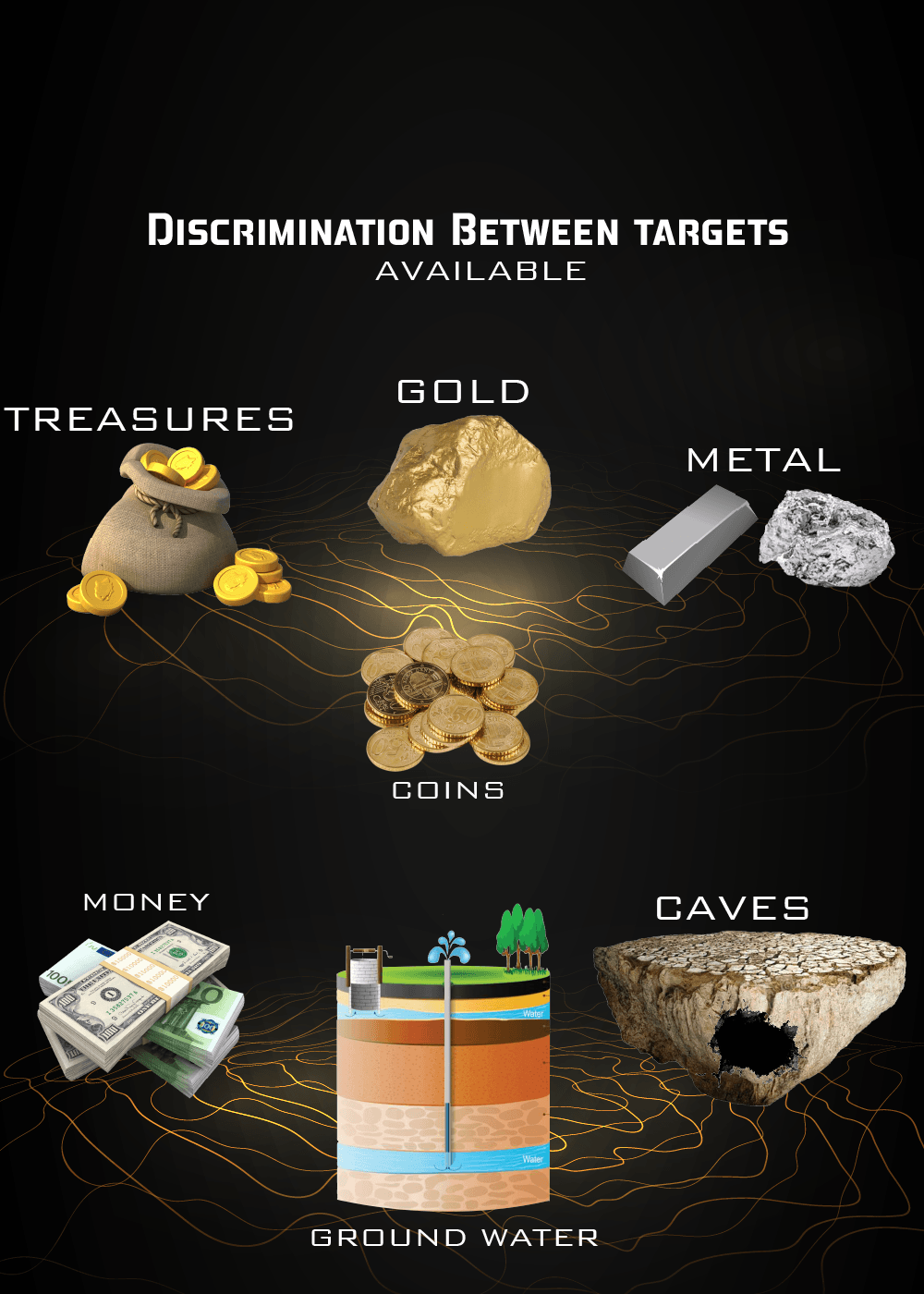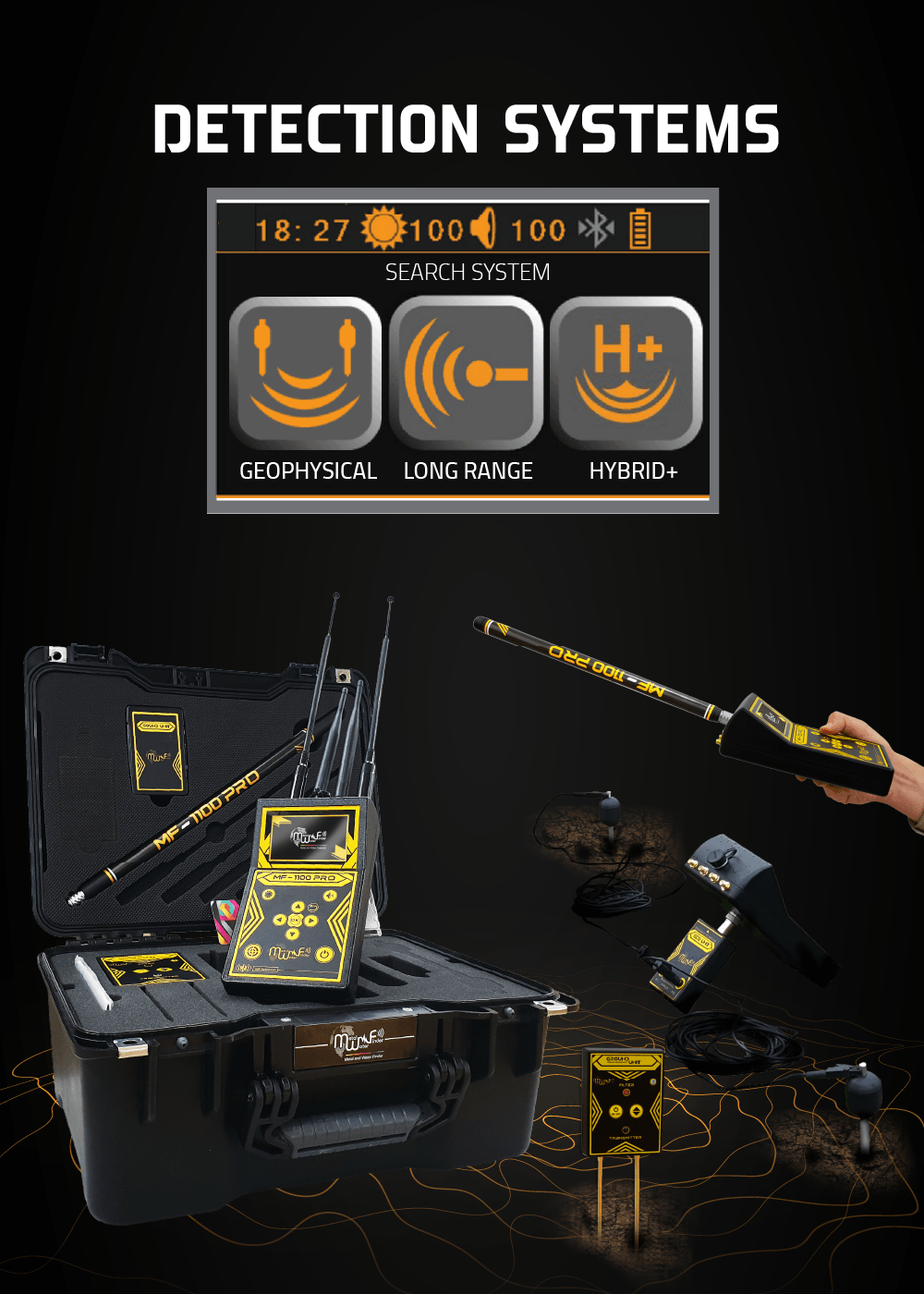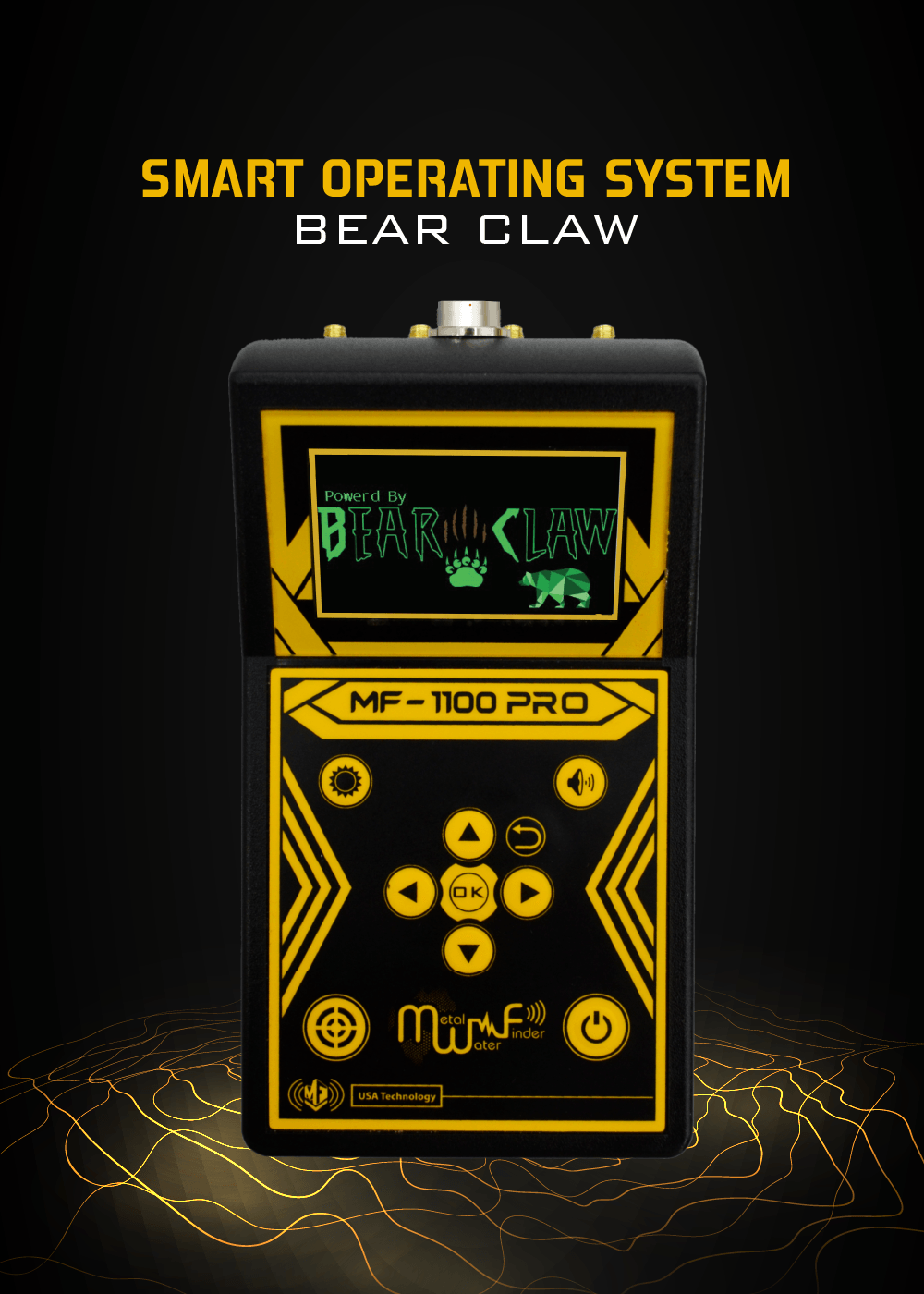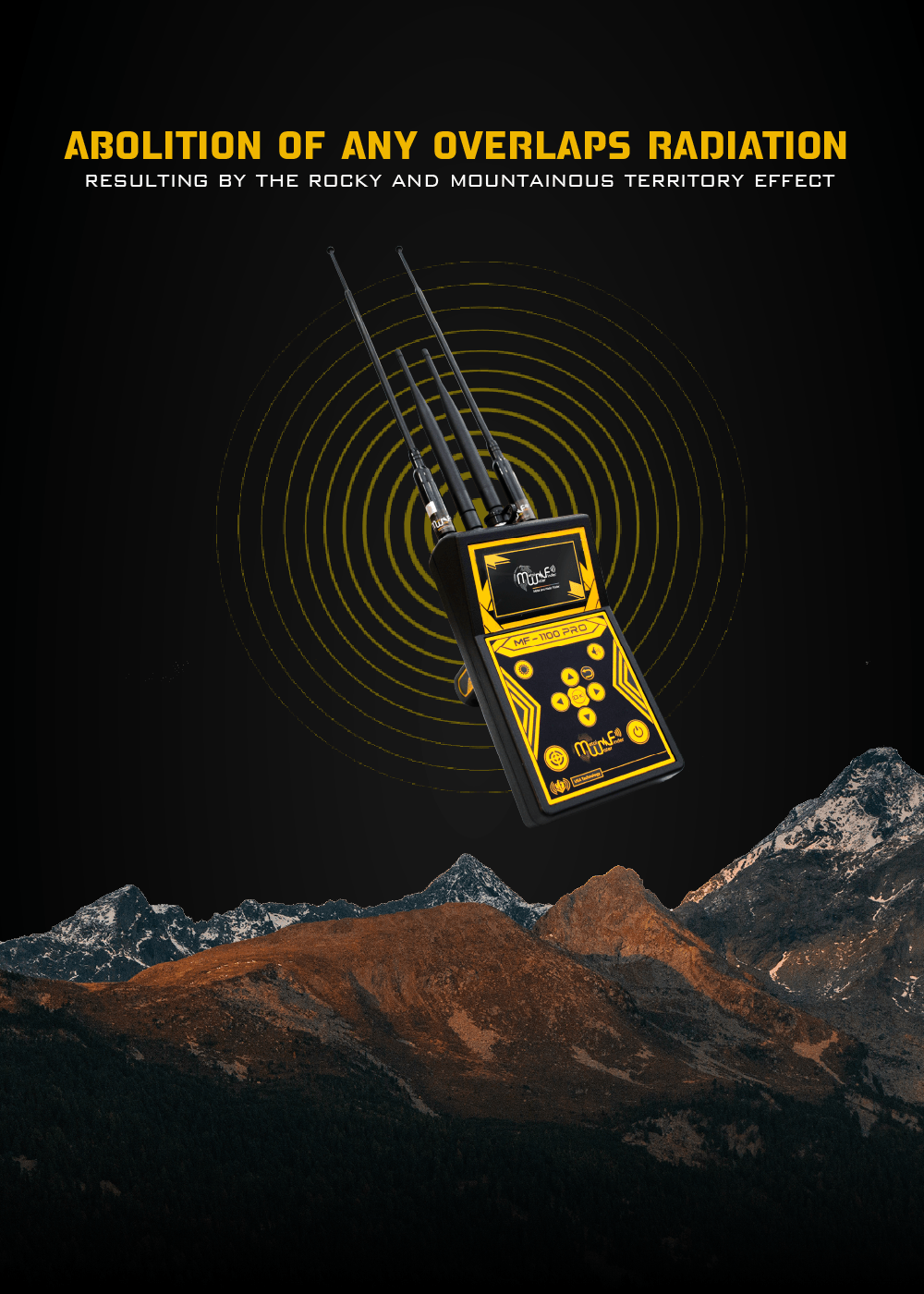 A new imprint in the world of advanced detectors Smart detection and control systems (Smart Technology)
A new imprint in the world of advanced detectors
Smart detection and control systems (Smart Technology)
New inventions invented for you by MWF DETECTORS
Now the gold and treasures are in your hands with confidence and with less time and effort.

Note: this device it is sold in three different packages according of the
systems available in each package:


1- Standard package: Provided with the basic search system, Advanced"
Long Range System
2- Professional Package: Provided with 2 search systems Long Range System &
Hybrid+ system.
3- Super Package: Provided with 3 search systems, Long Range System & Hybrid+
system and Geophysical survey system.
General Features:
The MF-1100 PRO has great capabilities, great features and functions make it the first confidence device, to begin successful exploration operations.
The specialized device in the search and detection of gold, treasures, metal, caves, voids, and banknotes.
Great unmatched accuracy in specify and detection targets and confirmation the target existence 100% without any errors.
Great speed to provide the results to the user with integrated and comprehensive data about the target and the point center.
Internal signal filtering systems, to avoid any confusion resulting from any high ranges frequencies like radio waves are present in the air or other.
Automatic Tuning System (ATS) Special invention and new, registered in favor of MWF GROUP, this system provides accurate results and certain in all types of soils and terrain, because the system recognizes the soil automatically, grants the search process automatic tuning commensurate with the type of soil and properties of soil, With the abolition of any overlaps radiation resulting by the rocky and mountainous territory effect, which may affect a lot of other detectors, but this smart system, can sorting and analysis and provide the necessary levels which relate of frequency signal, voltage, and wavelength of the signal which gives results free of any errors.
TFT color screen 3.2-inch HD gives the user clear vision by night and day.
Device locking system, the user can be the set password for the device, so cannot anyone run the device the owner only, and will be done through pin code interface.
Control the level of screen brightness feature, which gives you adequate lighting for day or night, and reduce the level of lighting to save energy as well.
Five levels of sound give you adequate control of sound output and signals sounds of search results, as well as vibrator mode, or silent mode and sufficiency by visual results.
The device support with digital clock, with a time settings interface.
Multi-languages.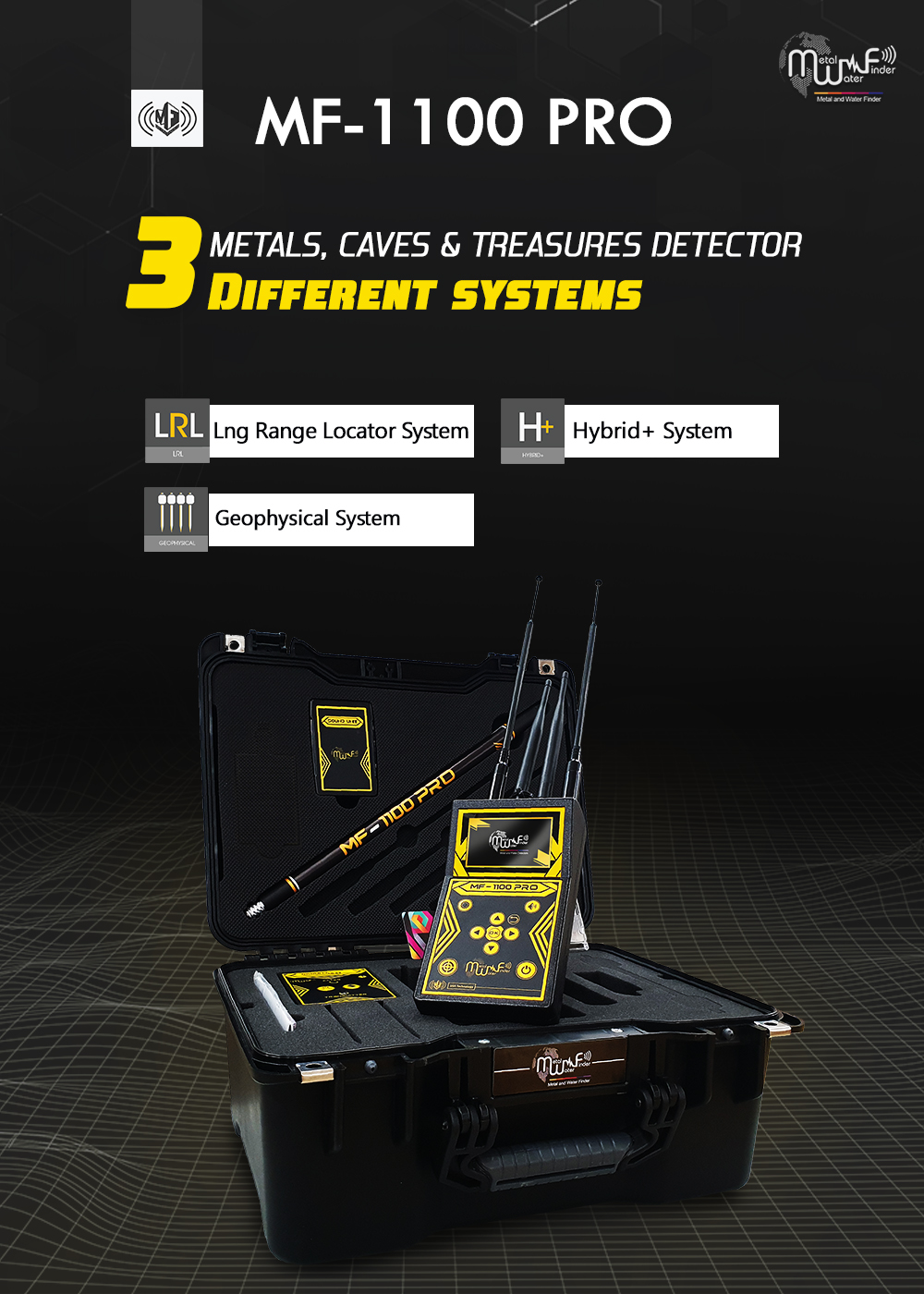 For the first time globally in the detection and exploration devices exclusively at MWF Group, The device is supported with smart operating and detection systems, Smart interfaces, Power conservation system, Smart charging system, Multilanguage and remember device language, save settings, Smart control, Bluetooth technology, and factory reset, all this and more through the operating system (Bear Claw).
Battery and charging smart feature, which gives the user accurate tracking of battery level and notices about battery level and alerts before the entry into force of power, with smart charging systems that give the user also follow up the battery charge when the device ON or OFF, and to find out the level of charging which added, all in real-time.
Wireless headphones are working on (Wireless) can be controlled through the device settings.
Bluetooth technology to communicate with units that require conduction with a device through Bluetooth.
High quality and accurate performance, manufacturing this product by best elastomers, electronic components, and circuits with international standards.
The ergonomic design and streamlined shape give you the power to search and navigate with lightweight and ease of use, which plays a big role in quick and uncomplicated results.
Easy to work and to use anyone can use it.
Supported this device with simple control panel, works with buttons interface, enables the user to be controlling and setting the device to search easily, the control panel consists of the following:
ON/OFF button
Screen Brightness control button, (external quick abbreviated)
Volume adjust button (external quick abbreviated)
Back button
The joystick gives you a quick move in the device settings and functions, consisting of 4 buttons to move up, down, left, and right.
OK button
Tracking and target focus button