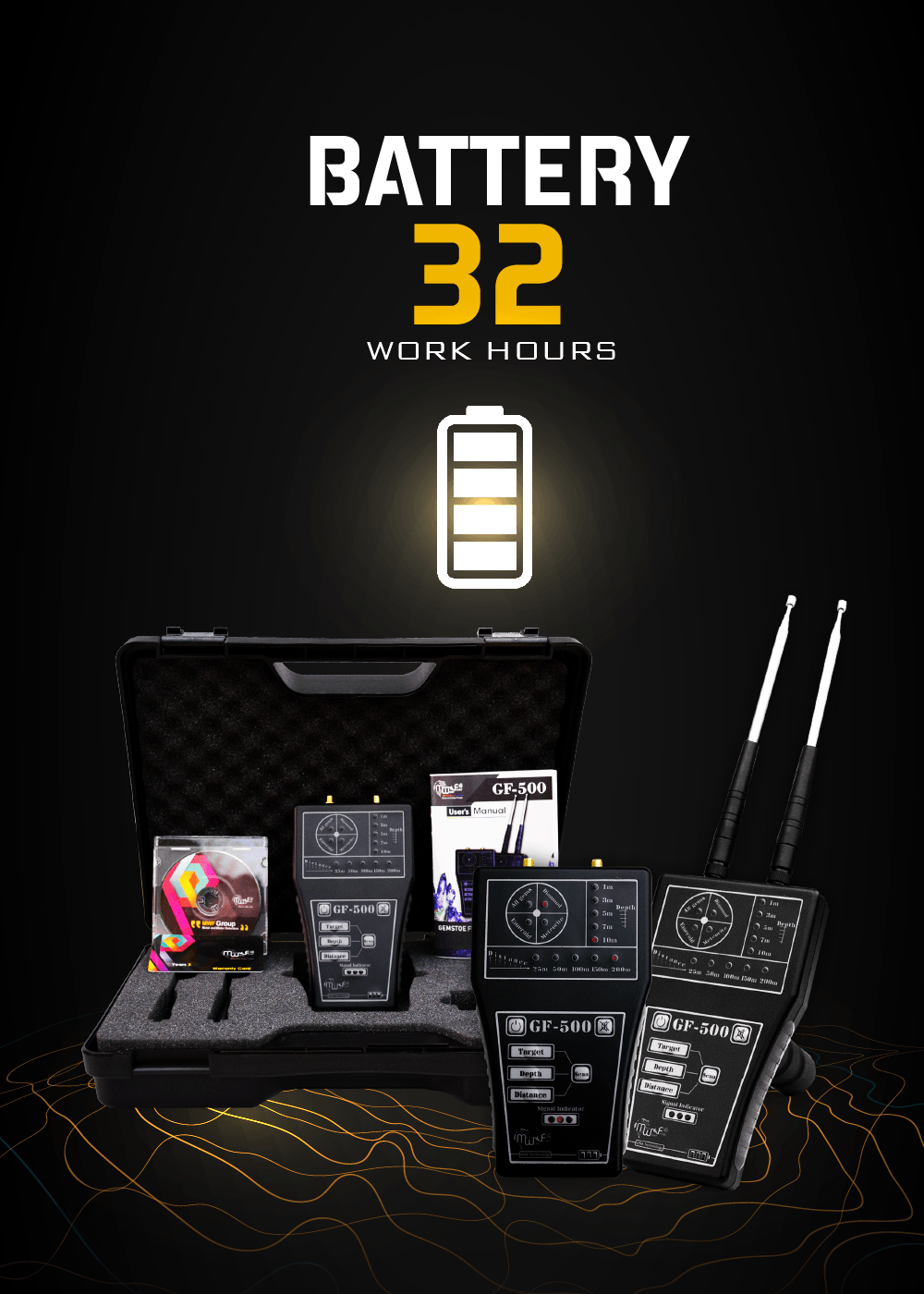 Diamond Gems Detector" GF-500 device works on the long-distance sensing system (LDS)
the advanced and built-in with acoustic identification systems to locate the path and point center of the target.The GF-500 offers the high rigor frequency waves that enable it to identify and detect the target location underground, like diamonds and gemstones meticulously where the device can locate the targets from 200 meters distance and an angle of 360 degrees with a precise control feature at a horizontal distance search, where there are several levels of search distance, the user can adjust according to their needs to the horizontal scan, the search depth in the GF-500 device can be reached until 10m underground with the possibility of precise control in search depth,

All that through the device control interface, the device is characterized by its small size and ease of use, where it can be placed in the pocket and move it all the goodwill and easily, and anyone can use it without having to experience or large knowledge about detectors.
Specialist GF-500 to detect and search for diamonds and gemstones underground, with very great accuracy.
High quality and accurate performance, manufacturing this product by best elastomers, electronic components, and circuits with international standards.
Supported this device with simple control panel, with the interface works with buttons keys and LEDs, enables the user to control and set the device to search easily, the control panel consists of the following:
1- ON/OFF button
2- Volume adjust button
3- Target selection type button
4- Depth range selection button
5- Distance range selection button
Control in 5 sound level modes in addition to a silent or vibrator mode.
LEDs indicator of search and signal, and consists of three levels.
LEDs indicator of battery levels and consists of 3 levels shows the battery level.
LEDs interface showing the selected search modes like the target type, depth, and distance.
Targets, optional list: Diamonds – Emerald – Meteorites – All Gemstones.
Search depth, optional list and start from 0m and up to the selected depth: 1m – 3m – 5m – 7m – 10m.
Search distance, optional list and start from 0m and up to the selected depth: 25 m – 50 m – 100 m – 150 m – 200 m.
Easy to work and to use anyone can use it.
The Device is characterized by its small size, where it can be placed in the pocket and move at munificence.
Lightweight, which helps the user work done without effort or fatigue.